10 Places to Get Your Coffee Buzz On
Starbucks may have arrived in Hawaii in 1996 but that doesn't mean the chain dominates the 50th state's coffee store scene.
Whether you're staying on Maui's West Side or Oahu's North Shore, each island has its fair share of charming coffee shops—cafés that feature not only excellent ambiance and swoon-worthy art but also buzzable drinks that'll have you coming back for more.
Here are 10 spots to get caffeinated throughout the Hawaiian Islands:
1. Knots Coffee Roasters and Wine Bar: Waikiki, Oahu
Knot your average coffee store, Knots Coffee Roasters—tucked into Waikiki's Queen Kapʻiolani Hotel—is anything but a resort café. Bright and airy, it features spacious seating, stellar service, and a drink menu that'll satisfy anyone's java hankerings. Offerings range from Kona coffee espresso to nice and icy, mocha and macadamia nut treats. What's more, the venue doubles as a bar, complete with a happy hour that boasts great bubbles, wine, local beers, and hard Kombucha. Craving something sweet? Knots has garnered fame for its uber-creamy, Basque-style cheesecake.
2. Café Café: Lahaina, Maui
From Affogatos to Americanos, this practically on-the-beach coffee store, situated right off of Lahaina's legendary Front Street, features all of the gourmet espresso drinks you could possibly desire. And yet, it's Café Café's daily hot brew that won our hearts. The laidback surfer vibe adds to the venue's appeal, while the Pacific Ocean, mere feet away, never lets you forget that you're on vacation (even if, ahem, you're not). Score a seat in their outdoor lounge to watch the passersby, or dive into one of their breakfast sandwiches as you admire the leeward side's glistening water. Either way, you'll immediately understand why Café Café was the winner of "Best of Maui's" Coffee Shops and Baristas.
3. Java Kai: Kapaa, Kauai
You can't miss Kapaa, Kauai's Java Kai—and not just because of its vivid, aqua interior. No, you'd literally be missing out if you didn't make a stop at this lively place on The Garden Isle. Coffee—including 100% Kona, Kauai, and Molokai coffee—is hand-roasted on site, so each cup tastes as fresh and effervescent as the local art that adorns the café's walls. You'll find a host of creative coffee drinks, from Mac Nut Lattes to the El Bandido, a concoction that swirls together Mexican Coca-Cola, espresso, and vanilla ice cream. Food, such as homemade cupcakes and burritos stuffed with Kalua pork, is available for those who need more than java to hit the spot.
4. Hula Bean Café: Kaunakakai, Molokai
Located in Kaunakakai—the central town on The Friendly Isle—Hula Bean Café brings the magic back into local coffee shops. Rustic and small, it offers a kicker of an Americano (as in, it'll leave you pleasantly jolted), iced mochas to satisfy your sweet tooth and caffeine craving, and frappes with island-flair flavorings. Their smoothies are equally good and feature a number of wholesome ingredients, such as kale, banana, and mango. Need a snack—or an entire meal? You're in luck: Hula Bean Café offers everything from lilikoi cream cheese pretzels to corned beef sandwiches.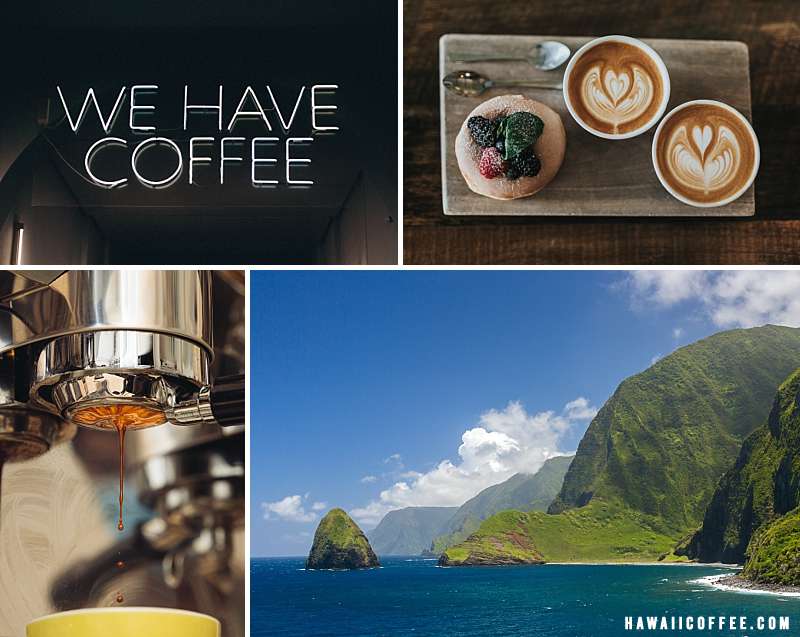 5. Tin Shack Bakery: Pahoa, Big Island
True: Tin Shack Bakery is celebrated for its baked goods (think: challah, bagels, and bread galore) but its enticing local vibe and superb coffee make it a terrific spot for a cup of joe, too. Situated in Pahoa—a quaint, artsy enclave in the Big Island's Puna district—Tin Shack Bakery lives up to its name: It's located in a tin building, and displays fun, beach-shack décor and happy colors. You'll find a solid selection of coffees on their menu, including cappuccinos, lattes, and fresh-brewed coffee.
6. Coffee Works, Lanai City, Lanai
With its giant mug on the front awning, this sweet little coffee shop in Lanai's main town does not disappoint. First established in Honolulu in 1975, Coffee Works relocated to The Pineapple Isle in 2000, where it's garnered praise for its fine, Hawaiian coffees. You can sample island-grown brews and blends, including Hawaii Monarch (with vanilla nut, French caramel, and Kona Fancy) and their Lanai blend, a robust-flavored coffee that mirrors the island itself. Meanwhile, relax, and savor the island's picturesque views.
7. Paia Bay Coffee Bar: Paia, Maui
Arrive in Paia and you're bound to be enchanted by its off-the-beaten-path restaurants and retailers. Paia Bay Coffee Bar is an apt reflection of the town's unique ambiance, so much so it practically encapsulates it. From the bar, you can order one of their remarkable coffees—such as Pour Over Maui Mokka Peaberry—and sit at their handmade wooden tables amidst succulents and flowers. Feeling bold? Go for their Liquid Gold Local Latte, a drink that contains fresh local turmeric, ginger, cardamom, cinnamon, espresso, local macadamia nut milk, CBD extract, MCT oil, and—you guessed it—24k gold flakes. Bonus points: the café transitions into a vibrant bar at "pau hana" (3pm), and has one of the best happy hours on the island.
8. Ali'i Coffee Co.: Honolulu, Oahu
In Yelp's 2019 list of the 100 best restaurants in the U.S., only three venues were based in Hawaii—and one was the hip and delicious Ali'i Coffee Co. Located just outside downtown Honolulu, the shop is the brainchild of James Webb and Will Gold, a coffee roaster and wholesaler, and a java-lover whose father owned a coffee store in San Francisco. There's a bevy of gems on their curated list of coffee (and non-coffee) drinks, including the popular Taro Ube Latte, with espresso, taro cream, and the purple sweet potato ube, and the Ono Coconut, a concoction that stars cold brew coffee, coconut milk, muddled pineapple, and a hint of macadamia nut. The men behind this masterpiece of a place are also eco-friendly and tuned into the community: There are no plastic straws, the stools and tables are comprised of upcycled or reclaimed wood, and the work on the café's walls is made by local artists.
9. Kona Coffee & Tea: Kailua-Kona, Big Island
One of the beauties of this Big Island mainstay is that the coffee they serve is 100% Kona harvested on their single-estate farm, which is then small-batched roasted at their mill and brewed fresh at their Kailua-Kona café. The result? Coffee that sparkles with the crispness and palatability that made Kona coffee famous in the first place. Every drink on their menu, from Flat Whites to Ameri-Konas to Cortados, lets Hawaii's most beloved java shine.
10. Green World Coffee Farm: North Shore, Oahu
Consisting of 7 acres and 3,000-plus Arabica trees, Green World Coffee Farm is The Gathering Place's only coffee visitor farm. In other words, if you'd like an ultra-fresh cup of coffee made with beans grown seconds away—as well as complimentary tours and tastings—then this is your place. In addition to the beans harvested right outside their espresso bar, Green World Coffee Farm supplies brews—and bags to carry home—from Maui, Molokai, and Kauai. The selections at their café are straight-to-the-point—you can have your coffee hot, iced, or blended—but that just makes the exceptional flavors of their coffees stand out more. Their premium Waialua packs nutty undertones, while their 100% Molokai coffee contains rich, chocolatey tastes. Stop by for the sights of their beautiful farm, and take a cup of java for the road as you head towards Oahu's world-renowned (and oh-so-gorgeous) North Shore.